I thought the last version was supposed to be the final version. Now it's gone from 150 questions to 188 questions, and ones I've never seen before. Oh well anyway, my graph still looks awesome flying saucer.

Your Aspie score: 142 of 200
Your neurotypical (non-autistic) score: 58 of 200
You are very likely an alien Aspie
Tell me something I don't know.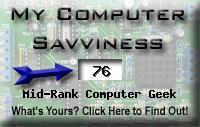 Sheesh, I said "something I DON'T know"!
2 Comments
Anonymous

said,

Oy! where can I get that awesome flying saucer quiz? (you know which one I am talking about)